Your Question Answered: How Hard is Accelerated Nursing School?
Each blog post is dated and contains accurate information as of that date. Certain information may have changed since the blog post publication date. If you would like to confirm the current accuracy of blog information, please visit our ABSN overview page or contact admissions at 866-892-1562.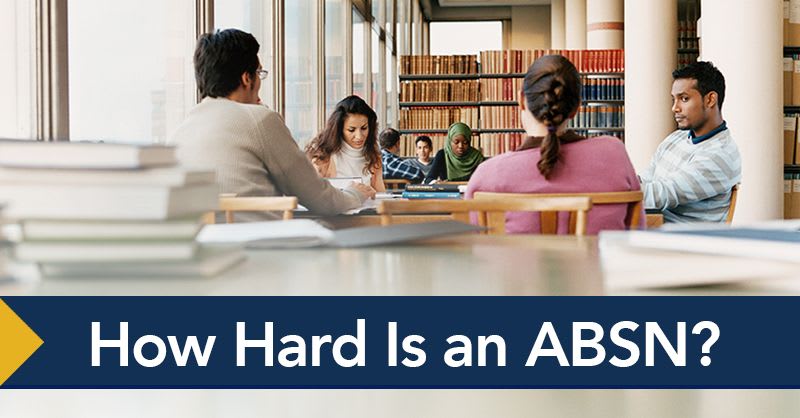 In deciding whether to change careers and become a nurse, many have wondered just how hard accelerated nursing school is. It's a good question, and one that cannot be answered with a short response. An accelerated Bachelor of Science in Nursing (ABSN) can be rigorous, but also very rewarding. In order to explain the rigor and rewards, we must first start by explaining what you can expect from an ABSN.
Understanding an ABSN
The ABSN program at Concordia University leverages your existing non-nursing credits or your non-nursing bachelor's degree. You could earn your accelerated BSN in as few as 16 months through online coursework, hands-on labs and clinical rotations.
Your ABSN Expectations
It is important to think about what you should expect from a program when determining how hard nursing school will be. It takes dedication and self-motivation to be successful in an ABSN. Much of the curriculum's intensity is due to the fact that the curriculum at Concordia University prepares you to sit for the National Council Licensure Exam (NCLEX), which is the licensure exam required to practice as a Registered Nurse.
The curriculum uses a blended learning format to give students the knowledge and experience they will need to practice as a Registered Nurse in a real-world setting. This blended model consists of the following three components:
1. Online Didactic Learning
Concordia University uses an e-Learning system to teach students nursing theory coursework. The didactic lessons are interactive and you can view them as many times as needed until you fully understand the subject.
This online approach gives you more flexibility because it allows you to study on your own terms, at the time and in the place you choose. However, using the online learning component does not mean you can slack on your studies. You are still required to meet deadlines and stay on track with quizzes and exams.
2. Hands-on, Experiential Learning
In addition to online learning, you are able to gain hands-on experience through on-site skills and simulation labs in the ABSN. The nursing labs give you an opportunity to practice advanced skills with no risk to patients.
You work alongside your instructors as you learn on state-of-the-art medical training equipment. The nursing skills and simulation labs help you develop critical-thinking, problem-solving and decision-making skills in a controlled environment.
3. Real Experience
During clinical rotations, you will apply the theoretical and clinical knowledge you learned during your coursework and simulations to the real world. Concordia has teamed up with the area's top health care facilities so you receive the best possible patient care experiences, as well as valuable exposure to potential employers. You will work alongside experienced clinical faculty and assist in providing patient care.
All three learning models occur concurrently, so you are truly engaged with learning all aspects of nursing from the time you begin your program until you finish.
Getting Over the Learning Curve of Accelerated Studies
Another aspect in determining how hard accelerated nursing school will be is understanding the learning curve. There are a number of struggles you may encounter when adjusting to your new program since the nursing school can consume a large amount of your time. Students may face the following problems when starting out:
Managing priorities and time spent on studies versus personal and family time.
Developing critical thinking and analytical skills that are helpful in nursing.
Developing new study habits to replace old practices that no longer work.
To help you get over those hurdles, here are tips for a successful start in the program:
Connect with your instructors early and often to build rapport and understand expectations.
Learn when your instructors have scheduled office hours and prepare accordingly.
Find out how quickly you can expect an email response from your instructors.
Dedicate routine time blocks to your online coursework so you will stay on track.
Leverage your online calendar to manage assignment deadlines, test dates and clinical hours.
While it may be possible to work while you're enrolled in the ABSN at Concordia University, we typically recommend students focus on their education full time.
Get Started Sooner with Concordia University
At Concordia University, you have the added benefit of starting your education sooner. There are three start dates a year, which means more qualified students can get started on their nursing education with us each year. In fact, we're enrolling now, and there is no wait list.
Nursing school can be a highly competitive landscape, which is why many schools have waiting lists and capacity restriction requirements. Those burdens can become roadblocks for qualified prospective students who have made the decision to change careers. Consider avoiding the wait lists by looking into the ABSN at Concordia University.
The ABSN Advantage
An BSN degree from Concordia University helps prepare you to become an exceptional nurse. Our holistic education approach teaches you how to treat patients and prepares you to be a leader in the world of health care.
As the needs of the healthcare industry change, hospitals are increasingly establishing new education and experience standards for nursing staff. One of the new common standards is to only hire nurses who hold a bachelor degree or higher in nursing. Set yourself apart from others and give yourself an advantage by earning a BSN degree now, so you can start your career confidently. You'll begin your new journey without worrying about whether you'll need more education.
At Concordia University, our goal is your success. Upon completing our accelerated nursing curriculum, you can expect to have a strong academic foundation and the clinical preparedness to take the NCLEX. Contact an admissions counselor to get started on your new career today.