Switching from Biology to Nursing: Why It Fits and How to Apply
Each blog post is dated and contains accurate information as of that date. Certain information may have changed since the blog post publication date. If you would like to confirm the current accuracy of blog information, please visit our ABSN overview page or contact admissions at 866-892-1562.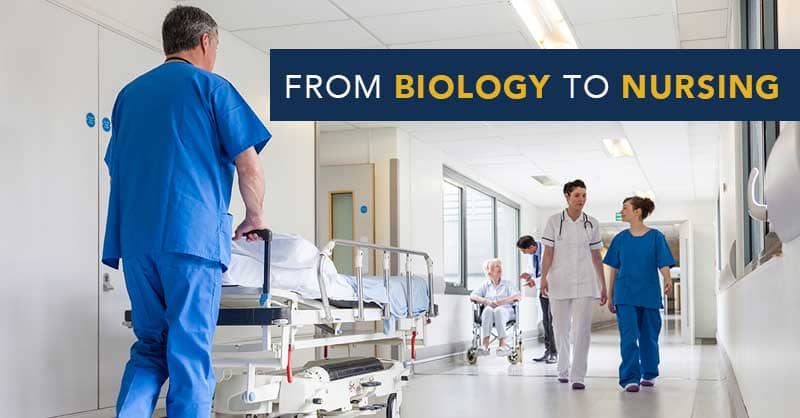 Sometimes it's not until you've spent some time in a field that you realize it's not a good fit. After working for a few years as a scientific researcher studying metagenomics and microbiology, Todd found himself facing a major life decision.
"I got a publication and was at a crossroads of whether I wanted to do research science and go into that field," says Todd, adding that it resulted in offers to pursue a master's and Ph.D. "Or I could do something else." However, what that something else might be was yet to be decided.
Many students who earn a degree in biology with specific career ambitions may decide to change their career path later on, but might still want to apply the skills that they developed through their degree. Luckily, earning a nursing degree through Concordia University, St. Paul's Accelerated Bachelor of Science in Nursing program offers a viable career path for non-nursing bachelor's degree holders (or advanced standing students who have completed 60 credits) to earn a degree in as few as 16 months. This is Todd's story of switching from biology to nursing through Concordia University, St. Paul.
Switching from Biology to Nursing to Find the Right Career Path
To understand why Todd walked away from a promising research career, you have to know him. "I just like people, and I like doing things with my day, like moving and being physical," he says with a laugh, before explaining what he sees as the pinnacle of a research career — writing and reviewing grant proposals and reviewing findings while others get to carry out the actual research. "That didn't appeal to me personally, so I started looking at other career options."
Like many biology degree holders, Todd gravitated toward medicine. "My dad was a veterinarian, so I've been around some type of medicine my entire life," he explains of his decision to apply to medical school.
During the lengthy application process, though, he began volunteering on the med-surg floor of a local hospital. He also got his certified nursing assistant (CNA) license and started working as a CNA. These experiences would prove to be pivotal, leading him to question whether medical school was right for him.
"I'd spent time with the hospitalist team working as a scribe at Providence before I volunteered there, and I didn't like the daily grind of the physicians," Todd says. "It seemed to be more of an office job than I thought. You do your rounds on your patients and then you go sit in front of a computer, look at charts and write up orders."
He's not alone. When students choose nursing school over medical school, it's often because they want to spend more time interacting with patients. So after much thought and reflection, Todd decided to apply to nursing school, admitting:
Why Would Biology Majors Enroll in an Accelerated BSN Program?
In many cases, an accelerated nursing program is the quickest path to a career in nursing. However, how long it takes you depends greatly on your previous education. Because Bachelor of Science in Biology programs place a heavy emphasis on math and science courses, these students tend to meet more of the nursing school prerequisite course requirements than students with Bachelor of Arts degrees.
Why Todd Chose Concordia University's Accelerated BSN Program
Lucky for Todd, when looking for accelerated nursing programs for biology majors, he easily found Concordia University's Accelerated Bachelor of Science in Nursing (ABSN). "I actually drove by the ABSN building every day," he says. "That's not what led me to want to go there, but that's what led me to know it existed."
So he looked into CSP's ABSN program, which blends online- or campus-based nursing theory coursework options with hands-on skills and simulation labs and clinical rotations. "The 16-month timeframe was definitely attractive to me," he says.
The admissions process also impressed him and he says his admissions counselor did "a fantastic job" of explaining the process and providing him with a clear list of what was needed.
"Most programs I've applied to in the past — be it medical school or other programs — their admissions team and the admissions process is very hands-off," says Todd.
Thanks to Todd's previous degree and experience as a CNA, he met most of the ABSN admissions requirements — an advantage of transitioning from a bachelor's in biology to nursing school. However, he did have to take Nutrition and Human Growth and Development, which he did over the summer prior to starting the ABSN program in August 2018.
How to Complete Your Nursing School Application if You Already Have a Bachelor's in Biology: 3 Steps
Having already completed a bachelor's degree in biology, your pursuit of a BSN degree will probably be easier than it is for some, most notably due to prerequisite requirements. Discover how you can work through the application process and become a Concordia ABSN student sooner like Todd.
1. Speak with Your Admissions Counselor
The first step you should take when switching from biology to nursing is to connect with an admissions counselor. During an initial conversation they can help you confirm your program eligibility as well as help you better define your goals and interests as they relate to our ABSN program and your future nursing career. Once you've confirmed the program is the best fit for you, you can work toward meeting all the requirements you'll need to successfully apply.
2. Develop Your Academic Plan and Complete Prerequisites
Once you've met with an admissions counselor and determined your eligibility, they will work with you on developing an academic plan to complete all general education requirements as well as prerequisite courses. Prerequisite courses are required for enrollment due to the rigorous nature of the program, but this is where your bachelor's degree in biology comes in. Because you have likely already completed many of our prerequisite courses in earning your previous degree, you will be able to satisfy requirements and apply more quickly. Learn more about the prerequisite courses required by CSP.
3. Apply with Confidence
Once you've met all prerequisite requirements and meet eligibility requirements, you will have everything you need to confidently apply for the Concordia ABSN program and pursue your BSN degree in as few as 16 months. With step-by-step support throughout the admissions process, we're here to make your transition into a nursing degree as simple and straightforward as possible.
Are You Ready to Make the Change to a Career in Nursing?
Whether you're switching from biology to nursing, or coming from any other field of study, our admissions counselors are here to help. Contact your ABSN admissions counselor today to find out if Concordia University's ABSN could be the right path to a life-changing career in nursing.