Relocating for Nursing School: Why Move to Minnesota?
Each blog post is dated and contains accurate information as of that date. Certain information may have changed since the blog post publication date. If you would like to confirm the current accuracy of blog information, please visit our ABSN overview page or contact admissions at 866-892-1562.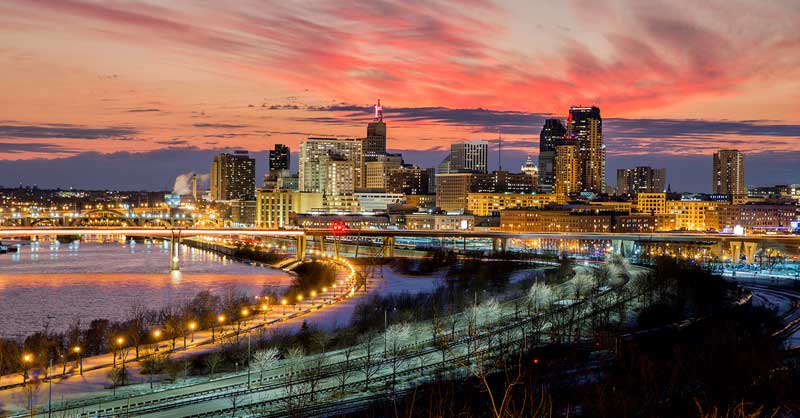 Have you ever considered moving somewhere new to earn your nursing degree? If so, you may have questions about this process. Relocating for nursing school might seem unconventional, but many students find that this is the best way to earn a nursing degree and start their new career.
At the College of Nursing at Concordia University, St. Paul, our 16-month Accelerated Bachelor of Science in Nursing (ABSN) program is a great option for students with a prior non-nursing bachelor's degree or at least 60 non-nursing college credits. The hybrid curriculum consists of online courses and experiential learning opportunities. Students can choose from three start dates throughout the year, making it possible to begin the program soon after being accepted, and can also choose between our ABSN locations in St. Paul, Minnesota, or Portland, Oregon.
Read on to learn three compelling reasons to consider relocating for nursing school and the advantages of moving to Minnesota to earn your degree.
Why Relocate for Nursing School? 3 Reasons
Looking outside your hometown for nursing school opportunities is a wise choice for several reasons. We'll discuss three reasons to pursue a nursing education in a new city.
1. Speed Up Your Timeline
Many nursing programs offer only one start date, requiring new students to wait several months before beginning their studies. At Concordia St. Paul, rather than waiting to begin a program that offers only one start date per year, it's possible to save time by relocating. That's because CSP offers three start dates per year in January, May and September, making it possible to get started on your degree without having to wait.
Relocating for nursing school can also offer the chance to enter a hybrid accelerated program rather than a traditional four-year nursing program. If there are no accelerated BSN programs located close to home, this is a perfect reason to explore an option like the 16-month Accelerated BSN program at Concordia St. Paul.
2. Benefit from Experiential Learning Environments
Relocating for nursing school can also offer the chance to learn nursing skills through clinical learning experiences at well-equipped facilities.
A key piece of your nursing education at CSP will consist of skills labs and simulations, where you will practice nursing techniques, such as:
Placing IV lines
Inserting catheters and nasogastric tubes
Interviewing patients
Applying wound care
Performing comprehensive physical assessments
By attending a nursing school like the College of Nursing at Concordia, St. Paul, which offers skills labs and clinical learning experiences, which include simulation, you'll have the opportunity to hone your nursing knowhow and become a more skilled nurse.
3. Experience a Fresh Start
When it's time to make a career change, you may feel ready for a new beginning. Whether your previous career was in advertising, banking, teaching or another field, you likely chose to pursue nursing to make a positive change in your life.
Sometimes, a change in scenery can provide inspiration during a life transition such as enrolling in nursing school. That's why so many students find solace in relocating to vibrant locations like St. Paul or Portland.
The 16-month ABSN program provides a novel environment to meet new people, start a new career and experience life from a new perspective. After graduation, many of our relocators have chosen to remain in the state.
Why Relocate to Minnesota for Nursing School?
If you are thinking of relocating for nursing school, consider Concordia St. Paul's accelerated nursing program in Minnesota. From Minnesota's professional benefits for nurses to the personal advantages of culture, sports and social activities, CSP offers high-quality nursing education in a location you'll love.
Find Many Job Opportunities
Minneapolis-St. Paul has a large healthcare industry providing many opportunities to secure nursing jobs after graduating from school. The average salary for registered nurses in the metro area is $86,690, according to May 2021 data from the Bureau of Labor Statistics. After graduation, you can look forward to competitive compensation in an in-demand career field.
There's Always Something to Do
One of the many advantages of living in the Twin Cities is experiencing the bustling cultural scene. Whether you enjoy sports, shopping, theater or concerts, you'll always have your choice of activities to fill your free time.
Sports
If you're a sports buff, the Twin Cities offers a wide range of events for you to attend in your free time. Professional sports teams that call Minneapolis-St. Paul their home include:
Minnesota Twins – Baseball
Minnesota Vikings – Football
Minnesota Timberwolves – Basketball
Minnesota Wild – Hockey
Minnesota United FC – Soccer
Shopping
The greater metro area surrounding CSP offers exceptional shopping, from major retailers to quaint boutiques. A few of the most popular shopping options in the area include:
Mall of America
Grand Avenue in St. Paul
Midtown Global Market
North Loop in the Waterhouse District
Theater, Music and Art
In Minneapolis-St. Paul, you can choose to spend your Saturday at a local concert, show or museum. The city's active cultural scene makes it possible to choose from activities like a concert at the U.S. Bank Stadium, a play at the Orpheum Theater or a walk through the Minneapolis Institute of Art—and that's only the beginning! For those who enjoy experiencing culture in an urban environment, a world of possibilities is available during your time in nursing school at Concordia, St. Paul.
Eat Amazing Food
Minneapolis and St. Paul have long been known for their delicious food. The list of worthwhile restaurants in the Twin Cities is exceedingly long. You could try a new eatery every week during nursing school and still not run out of options by graduation! Some popular spots to try out include:
Spoon and Stable – fine dining
Gorkha Palace – Indian cuisine
Pizzeria Lola – wood-fired pizzas
Lu's Sandwiches – casual dining
Dunn Brothers Coffee – original location
Bebe Zito Ice Cream – unique ice cream flavors
If you enjoy great food and spending your free time exploring new restaurants with friends, you won't regret relocating to Minneapolis-St. Paul.
Experience Nature
If you enjoy spending time outdoors, you'll find that exploring Minnesota's natural areas is one major perk of attending nursing school in the area.
Whether you'd like to run a 5k race at Chain of Lakes Park, visit the waterfall at Minnehaha Park or take in the wildflowers at the 740-acre Theodore Wirth Park, you'll always be able to find somewhere to reconnect with nature amid the stress of nursing school. When summertime comes around, CSP's location in beautiful Minnesota offers myriad lakes to choose from for boating and swimming.
Enjoy a Family-Friendly Culture
If you have a family and young children, relocating for nursing school may be more of a logistical challenge. However, rest assured that a move to the Twin Cities will provide a family-friendly region with ample focus on family and children's programming.
A few examples of the engaging children's activities in the area include:
Como Park Zoo & Conservatory and Minnesota Zoo
Minnesota Children's Museum
Afton Apple Orchard
Children's Theater Company
Nickelodeon Universe and Sea Life Minnesota Aquarium at Mall of America
Become a Nurse in Minnesota
Concordia St. Paul's accelerated nursing program in Minnesota is an ideal option for those who appreciate rich culture and friendly neighbors. There's a reason for the saying "Minnesota nice"! We'll welcome you with open arms while providing high-quality education, ensuring you're prepared for a career in professional nursing in as few as 16 months.
If you have a prior non-nursing associate or bachelor's degree or at least 54 non-nursing college credits, you may be eligible for the ABSN program.
The accelerated program at CSP combines online courses, skills labs and clinical learning experiences.
To learn more about how to become a nurse in Minnesota, reach out to our admissions counselors. Now is the best time to start your new nursing career.