Why Nursing in Oregon is a Great Career Choice
Each blog post is dated and contains accurate information as of that date. Certain information may have changed since the blog post publication date. If you would like to confirm the current accuracy of blog information, please visit our ABSN overview page or contact admissions at 866-892-1562.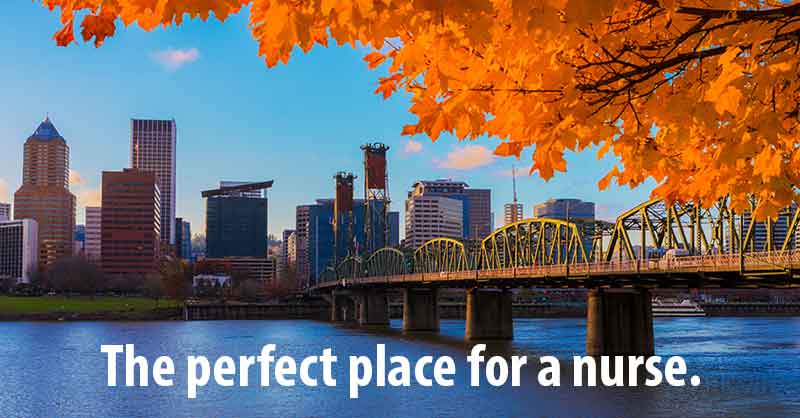 What do you envision when you think of Oregon? For some, it's the great outdoors — rivers, mountains, trails. Others think of the art, food and culture that mean every visitor can find something unique that resonates with them. There's always an opportunity for fun, from Portland's famous street performers, to concerts, to events with many of the diverse and unique cultures found throughout the state.
Whatever you think about Oregon, a lot of people think it's pretty great. For many years, more people have moved into Oregon than have moved out. This is due, in part, to the city of Portland, and the demand for nurses fueling job growth in the city and throughout the state. Because of these factors, Oregon has become among the best states for nurses.
But that's just the beginning of why you should pursue your nursing education in Portland, Oregon. Here are more reasons why it has become a great area for nurses.
Oregon Contains Many Nursing Job Opportunities
Nursing in Oregon can be a great path for those who want to pursue a nursing career and are looking for a particularly promising job market. In 2020, the Bureau of Labor Statistics declared Oregon as the fourth highest paying state for registered nurses in the country. On average, registered nurses in the state earned higher annual salaries than the national average. An RN salary in Oregon reaches an average of $96,230 per year, which is especially impressive when compared with the average nationwide yearly salary for nurses of $75,330 per year.
The bureau also anticipates that employment for registered nurses will grow by 9% between 2020 and 2030. This means that, while there are plenty of nursing jobs available now, even more will become available well into the future. Some of the reasons for this job growth include:
Increased importance of preventive care.
Increased rates of chronic conditions like diabetes and obesity.
Increased demand for health care services due to the baby-boom population, who are living longer than past generations.
Concordia University St. Paul offers two separate learning site locations in Portland, meaning our nursing program puts you in close proximity with plenty of opportunities after graduation. With high nursing salaries and many more attractions, we're proud to help address the nursing shortage on the west coast and educate students to take on their roles in patient care.
Nurses Can Enjoy a Healthy Lifestyle Surrounded by Nature
Portland ranks high on many lists of healthiest cities, due in part to its amazing surroundings and the easy-going nature of its residents. Take, for example, the large number of parks and outdoor activities. It's hard not to get outside and experience the natural wonders of the Pacific Northwest.
The city hosts a great outdoor environment, with easy access to the mountains and the coast. The Portland Metro area offers 10,000 acres of public parks that include 300 miles of trails, including a bike path along the Willamette River and amazing paths into Forest Park, one of the largest protected areas inside any US City. With all this access to outdoor activities, it's clear why Portland would appeal to nature lovers. Outside of time spent delivering care, you will be able to relax and unwind amidst beautiful scenery.
Oregon is Filled with Delicious, Healthy Food and Drink
From coffee to breweries to innovative restaurants, Portland has established itself on the foodie map.
What makes Oregon such a sought-after destination for food lovers? In large part, the diversity of cuisine available to residents. There are many types of cuisine to choose from, spanning multiple cultures and flavor profiles, and the traditional mixes with the innovative to produce a special food scene. Most food carts are grouped together in "pods," offering a variety of options in one location.
When it comes to coffee, Portland tops the list of best cities for java. The city is known for being a leader in specialty coffee and is home to dozens of micro-roasters and coffee shops. When it comes to late-night study sessions and fueling before (or after) shifts, you'll have your pick of some of the best coffee in the nation.
Oregon Stands Apart as a Cultural Hotspot
Jobs throughout the entire state will put you in close proximity with plenty of beautiful natural settings and cultural opportunities, but nursing in Portland, Oregon in particular can mean you'll never run out of things to do while off the clock or taking a break from your nursing studies. Portland hosts a thriving cultural district including art galleries, theaters, visual arts, live music and museums that rival any other major metropolis.
Live Music
Portland's music scene is among the hottest and most diverse in the U.S. with plenty of live shows and options that include indie rock, jazz, classical, pop and punk.
Between multiple venues and dozens of music festivals, there is no shortage of live music to choose from around the city all year round.
An Active Theatrical Scene
Portland has a robust theater scene that includes everything from popular musicals to children's plays to experimental performances. There's always something to see, and always more thought-provoking culture to take in.
Beautiful, Educational Museums
From art to history, the museums in Portland showcase exceptional works that people of all ages and all walks of life can enjoy.
The Portland Art Museum is not only the biggest art museum in the state of Oregon, but it's also among the oldest in the country. Established in 1892, leaders in the community wanted the museum to serve as a first-class art destination for citizens.
The Oregon Museum of Science and Industry is among the nation's leading science museums. Inside this giant 219,000-square foot building, you will find a planetarium, a giant-screen theater, a retired navy submarine and various exhibits featuring everything from fossils to living animals.
Oregon Doesn't Have Sales Tax
We have saved the best for last: there's no sales tax in Portland. Considering the endless shopping destinations around the city, you can spend downtime between work or study on retail therapy and pay less for everything from designer clothes, to locally made jewelry and beyond. Portland doesn't just have malls; there are boutique shops in various neighborhoods that have unique merchandise you won't find anywhere else.
What Are You Waiting For?
From jobs to food, to shopping, to museums — Portland is your hub for fun, as well as great career opportunities. With so many opportunities to practice the profession you love and access a high quality of life, nursing in Oregon could be the right choice for you in addition to being the perfect place for your nursing education.
Enroll in Concordia University's Accelerated Bachelor of Science in Nursing today and explore Portland for yourself. You can speak to an admissions counselor today at 866.892.1562!