How One Student Went from CNA to BSN-Educated Nurse
Each blog post is dated and contains accurate information as of that date. Certain information may have changed since the blog post publication date. If you would like to confirm the current accuracy of blog information, please visit our ABSN overview page or contact admissions at 866-892-1562.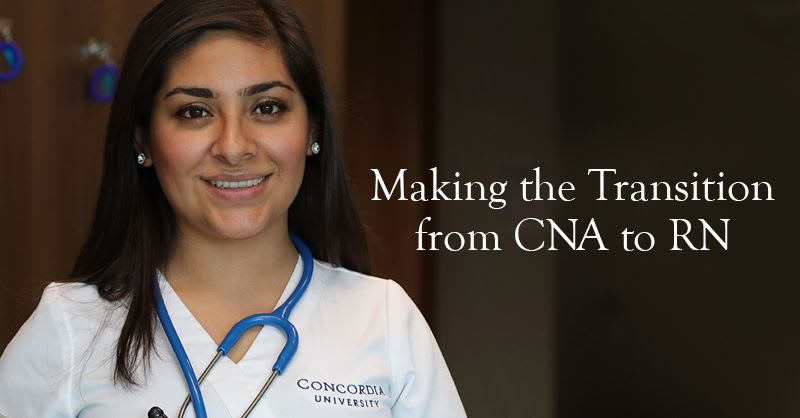 Sandra's appreciation for nurses began at an earlier age than most. As a child, she would accompany her parents to doctors' appointments; however, unlike most kids tagging along with mom and dad, Sandra played a pivotal role in their care: that of an interpreter.
Later, when she needed emergency surgery, she was touched by the level of care the doctors and, especially, nurses showed her and her family. So she began volunteering at a hospital after graduating from high school, eventually becoming a Certified Nursing Assistant (CNA).
However, her story does not end there. This is Sandra's journey from CNA to BSN-educated nurse.
Getting Her Start in Health Care
"After high school, I started volunteering at a hospital and that just reinforced the fact that I wanted to learn more," says Sandra, now a graduate of Concordia University's Accelerated BSN, adding that the experience allowed her to see what nurses do behind the scenes. It was then that she knew she wanted to be a nurse; however, for the time being, her goal would have to wait.
"Honestly, I was a really young mom," she says. "We both couldn't go to school right after high school, so he [Sandra's husband] went first and finished his career, and I went next."
Her career wasn't completely on hold, though. During this time, Sandra became a CNA and took a job working at Salem Hospital, where she would later apply to be a Critical Care Technician. It was a good experience for her, one that both reinforced her desire to earn a BSN degree and provided valuable health care experience.
"I met a lot of great nurses who influenced me to continue down the nursing path," Sandra says of her experience working at the Magnet hospital.
Finding the Right Nursing Program in Oregon
She heeded their advice and began researching nursing programs in Oregon, and it didn't take long for Sandra to come across Concordia University's Accelerated Bachelor of Science in Nursing (ABSN).
Her interest was piqued. She liked that the ABSN could be completed in 16 months, and that it offered the flexibility of online coursework, along with hands-on experience via the skills and simulation labs, and clinical rotations at top health care facilities.
Which is what impressed Sandra most about Concordia's ABSN. For many prospective students, the process of preparing for and applying to nursing school can seem daunting, especially if it can be tough to get someone on the phone.
Concordia ABSN Offers a Personalized Approach to Nursing School Enrollment
We do things a little different from most schools. When you call with an interest in the Concordia ABSN, you'll be assigned a dedicated admissions counselor, who will guide you through every step of the process, so that you can focus on what really matters — getting into nursing school.
"When I first contacted the school they set me up with an admissions counselor and she contacted me right away," she explains. "I spoke with her for probably an hour the first time we talked, and after that we developed a plan. She said, 'Let's come up with a plan to get you ready to apply.'"
For Sandra, this plan meant completing the nursing school prerequisites, which she was able to do while continuing to work at Salem Hospital. "I did a lot of my prereqs as hybrid programs or all-online programs," she says.
Contact with your admissions counselor doesn't end with a step-by-step to-do list, though. Over the course of the admissions process — which includes submitting past transcripts, fulfilling any prerequisites not covered by your previous college experience, completing a CNA program, and attending an in-person interview — you'll be in regular communication with your enrollment specialist to ensure everything you do increases your chances of getting into nursing school.
"She was so great. She was the reason why I was able to navigate through all of the obstacles and complexities of applying to school," says Sandra. "She helped me feel really prepared."
What Is Concordia University's ABSN Like?
As we've discussed in past blog posts, there are several reasons to choose an Accelerated BSN. However, for most students, the reason they chose an accelerated nursing program is because they want to earn their nursing degree as soon as possible.
Concordia ABSN makes it possible to graduate ready to sit for the NCLEX-RN® in 16 months by leveraging students' previous college credits so that they can focus exclusively on a nursing-specific curriculum. Not only that, three yearly start dates — in January, May and September — and multiple learning site locations, means you can potentially start sooner than with many other nursing programs.
Over the course of 16 months, you'll learn nursing skills through a combination of:
Online coursework focused on nursing theory and the issues facing the healthcare industry.
Hands-on skills labs where you'll hone important skills like inserting IVs and catheters, giving shots, and conducting nursing assessments; and simulation labs where you'll participate in mock nursing scenarios designed to prepare you for clinicals.
Clinical rotations that give you experience working and interacting with real patients in a wide variety of settings, as well as the opportunity to network with nurses in the field.
And because your success is our mission, you'll be assigned an academic advisor, who will check in with you regularly throughout your time in our ABSN to be sure you have what you need to succeed.
Ready to Make the Switch to a Career in Nursing?
Give us a call today to talk to an admissions counselor, or fill out the form to have someone call you, and find out whether Concordia University's Accelerated BSN is right for you.